Make Your Reservation
River King
Explore the Sebastian Riverfront with our daily ecology tours on Capt Hiram's brand-new River King, a USCG approved 45' Sightseer pontoon boat with twin 115hp Mercury engines. Discover dolphins, manatees, schools of fish and beautiful marine birds along the way.
Book now
Book Now
The Captain Has A Gift For Giving
Looking for a gift that reflects your tropical style? You've come to the right place. Capt Hiram's offers gift cards redeemable for everything from guest rooms to great cocktails. Your lucky recipient is sure to be delighted with this first-class ticket to the tropics.
Prefer something more colorful? Check out our array of Capt Hiram's merchandise, available exclusively in store only. From hoodies and hats to our must-have t-shirts, there's no better way to celebrate your island style.
Capt Hiram's Cap
Whether you're out on the boat or exploring the city of Sebastian, look good in a colorful Capt Hiram's cap, featuring our "Party in Paradise" logo.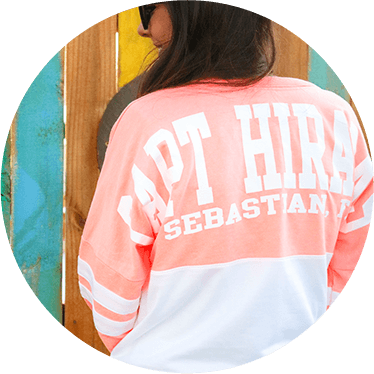 Capt Hiram's Varsity Long-Sleeve
Represent the laid-back spirit of Capt Hiram's and Sebastian with our relaxed-fit varsity tee—because you're the real MVP.
Capt Hiram's Hoodie
Perfect for a windy day at the beach or a lazy day in one of our suites, the Capt Hiram's hoodie features a varsity design and vivid sea green color.
Capt Hiram's Button-Up
Embrace the island lifestyle and show off your local know-how in one of these short-sleeve button-up shirts, featuring some trademark Capt Hiram's designs.
Capt Hiram's Long-Sleeve Tee
Look cool and stay cool in this light and breezy Capt Hiram's long-sleeve tee, available in a refreshing light blue shade.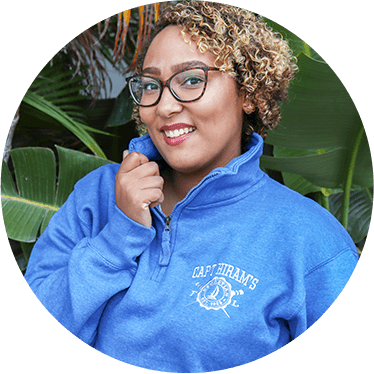 Capt Hiram's Mock-Neck Zip Pullover
Truly tropical style is as effortless as throwing on this royal blue mock-neck pullover before heading to the beach.